Squash Pizza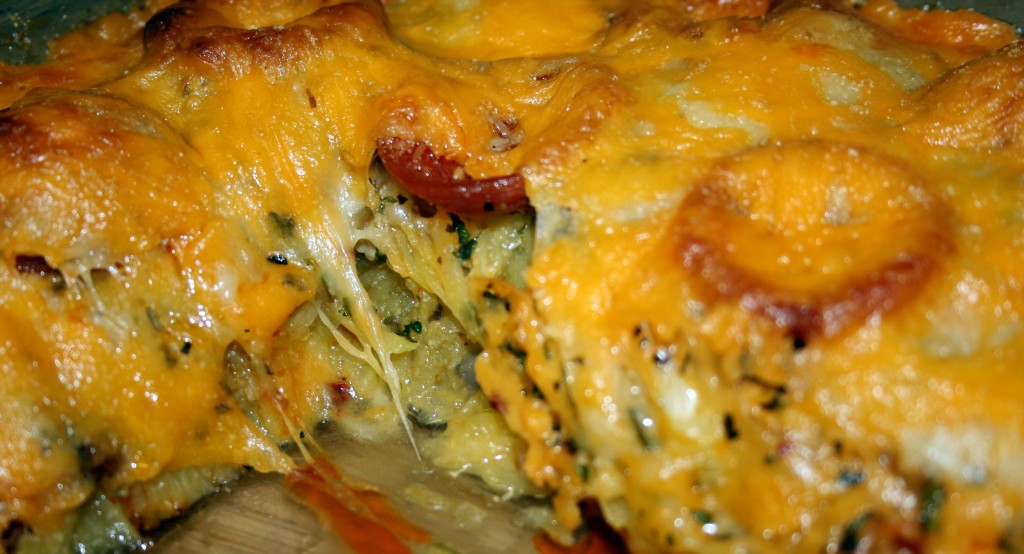 We love pizza and we love squash, especially spaghetti squash. It is not processed like store bought pasta or the flour used in most pizza crusts. Don't get me wrong – I love pasta and pizza crust and pretty much any bread I encounter, but it never seems to leave after I eat it. I might as well just glue it on to my hips and butt instead of biting into it, because that seems to be where it goes. Not so with spaghetti squash. It is pretty darned good for you, as I have mentioned before, and is a great way to take care of those pizza cravings, because the wheaty crust of the traditional pizza is just not gonna work with our diet strategy. We have officially thrown up our hands and now make a casserole version of pizza. Yes you need a fork to eat it, but is it really a great loss? Not when it helps me keep my weight down. I am not saying this recipe will help you lose weight, but if you are watching your carbohydrate intake like me, there is nothing better for battling pizza advertisements. The squash does a wonderful job of helping the herbs mix and spread their joy, and thick sliced pepperoni is just heaven to me on a pizza. Omigosh is it good!
Squash Pizza
1 spaghetti squash
8-12 ounces pepperoni, sliced thick
2 cups shredded cheddar cheese
2 cups Italian mix cheese (romano, mozzarella, parmesan…)
2 cups roughly chopped mushrooms (or 8 ounces canned mushrooms)
2 Tbsp dried parsley
2 Tbsp dried oregano
2 tsp dried basil
2 tsp garlic powder
2-3 tsp sea salt
2 tsp red pepper flakes
1 tsp black pepper
Slice squash in half lengthwise and scrape out seeds and sinew. In a microwave safe dish place halves open side down and add about ½ cup water. Cook on high for 10-12 minutes. Preheat the oven to 350 Fahrenheit. While the squash cools prepare the rest of the dish – start with slicing pepperoni and roughly chopping mushrooms. When squash is cooled scrape out the 'spaghetti' with a fork into a bowl. Add mushrooms to the squash along with half of the herbs, salt and pepper and mix well. In a medium to large rectangular baking dish (no larger than 9×13) sprinkle about ½ cup of the cheddar cheese. Add the squash mixture. Take a mix of the cheese, about a cup, and spread on top of the squash mixture, pushing it into the squash a bit. Add the rest of the herbs and spices. Make a layer of the pepperoni, then top with the remaining cheese. Place in preheated oven and cook for 30-35 minutes, until cheese is melted and there is some browning. Let stand outside the oven for about ten minutes before serving. Slice like a casserole and serve with a simple garden salad.