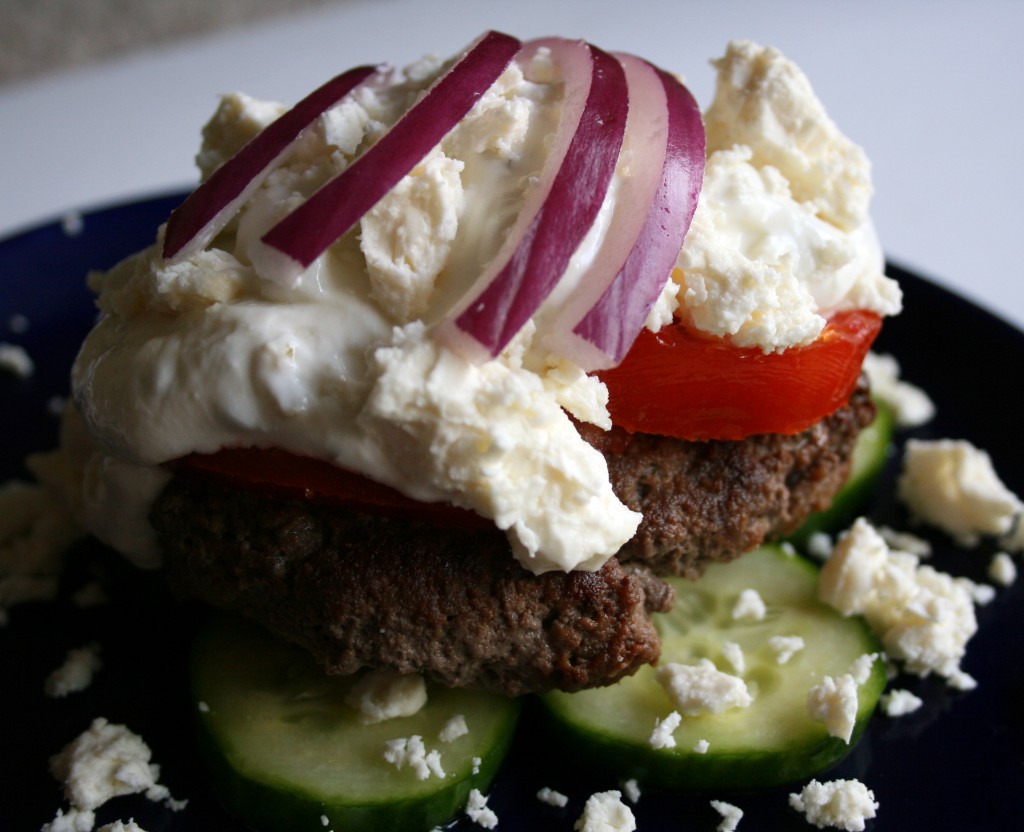 I must confess. I am a Fed. I work in a tall building in a big complex with uber security at the door and a locked work area with a bunch of cubicles around me. I am a little cog in a huge rolling maze of cogs, but I enjoy the work. Don't get me wrong, I would prefer cooking all day, but for now I am content with my work, which is challenging and never boring. This time of year is pretty busy for me, reflected by the fact it is longer than usual between posts. I have not cooked for days, but no suffering occurred during the drought. Big D made some wonderful stuff in the evenings and there was enough for me to very much look forward to leftovers at lunch. It will be another couple of months before things slow down, so I make no promises, but I have some yummy ideas – don't give up on me. I will persevere and post post post! Cooking relaxes me and I cannot stay away from it for long, no matter what. Take these burgers, for example. I had a burger like this at a hole in the wall restaurant somewhere in Alaska. I can't remember where, but I was surprised how much I enjoyed it – I had expected a hockey puck with sour cream on top, but it was fresh and wonderful. With no lamb in sight my version is a tangy, filling meal that reminds me of my beloved gyros (pronounced 'yee-rohs' in my opinion). I had to negotiate with Little B to use the last of our Greek yogurt for tzatziki. She loves it with a little stevia, cinnamon and vanilla for dessert, but I finagled enough from her for the recipe.
Greek Burgers
Patties
½ cup parsley, finely chopped
2 Tbsp oregano, roughly chopped
½ cup mint, roughly chopped
3 cloves garlic, finely chopped
1 tsp black pepper
2 tsp sea salt
1 egg
1 Tbsp lime juice (or 2 packets True Lime) http://www.truelemonstore.com/products/true_lime
2 pounds ground beef
2 Tbsp olive oil
1 cup feta, crumbled
2 cups fresh spinach leaves, stems removed
1 English cucumber, sliced in ¼" coins
1 tomato, sliced
½ red onion, thin julienne
Tzatziki
1 cup cucumber, peeled and finely chopped
1 ½ cups Greek yogurt
1 clove garlic, crushed
2 tsp parsley, finely chopped
2 tsp mint, finely chopped
2-3 tsp lime juice
1 Tbsp olive oil
½ tsp sea salt
¼ tsp black pepper, finely ground
First make the tzatziki – doing it right before the meal works, but doing it the day before is better. Combine all ingredients together. Chill until time to serve. For patties whisk together the first eight ingredients. Pour mixture over ground beef in large bowl. Remove your rings, bracelets and watches, then get your hands dirty making sure the egg mixture is well combined with the beef. Squish it and squeeze it until all the herby bits are distributed. Form meat into patties about 4" wide and 1" deep. In large frying pan heat the oil over medium high heat. Add patties and cook until seared, about five minutes. Flip patties and sear the other side. Cover and cook to desired doneness. On a bed of spinach and a layer of cucumber coins (either on a bun or directly on a plate) place a patty. Layer toppings – tomato slices, a glop of tzatziki, feta crumbles and onion. Dig in!