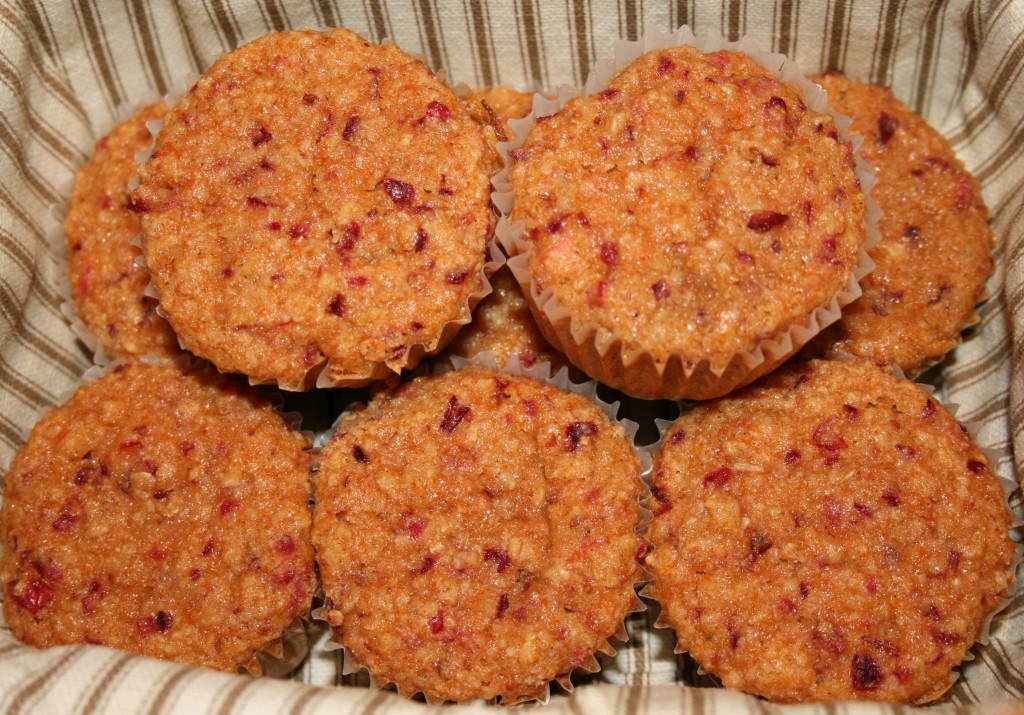 Every time we move we try to do two kitchen related things: 1) find a person or household to honor with all foodstuff in the kitchen that may spill or break; in general, not survive storage and transport, and 2) whittle down our supply of perishable foods in the fridge and freezer. Most of the time I scour grocery stores for good deals and stock up when I find them, which means our freezer is often full of bulk items. Don't get me wrong. I am not a coupon clipper and I don't pour over the weekly grocery ads, but when I am walking through the store and find a deal I definitely jump on it. In addition to my frozen deals and steals there are odds and ends left over from recipes. You know what I mean – that recipe that did not quite need the last half cup of berries, or the one that called for only half a can of tomato paste. In my attempt to use up stuff in the freezer I came across ingredients left over from the holidays – pumpkin puree and whole cranberries. I know the chilly weather these foods remind me of is pretty much in the past this year, but I went ahead and came up with a lovely recipe using the frozen goodness. Although the ingredients seem to be off season, the results taste quite refreshing and tangy – very suitable to springtime. By the time the kitchen got packed up they were all gone!
Wheat Free Pumpkin Cranberry Muffins
¾ cup butter, room temperature
1 cup white sugar
2 large eggs
2 tsp lemon zest
1 tsp vanilla extract
1 cup brown rice flour
2 cups instant oatmeal, uncooked
1 ½ tsp baking soda
½ tsp salt
1 cup Greek yogurt
1 cup pureed pumpkin
2 cups whole cranberries (pureed the berries should be about 1 cup)
Fill muffin tins with liners. Set aside. Preheat oven to 350F. Place oatmeal in a food processor and blend until it is a rough powder. Combine rice flour, oatmeal, baking soda and salt. Set aside. In a medium bowl combine pumpkin and yogurt. Set aside. In a mixer bowl using a flat paddle, cream together cane sugar and butter just until blended. Add eggs one at a time, making sure one is combined before adding the next. Add a third of the dry ingredients, then a third of the yogurt/pumpkin. Scrape the bowl well. Continue alternating the dry and wet ingredients until all is incorporated. Fill muffin tins about ¾ full. Bake for 20-25 minutes, until tops are brown and beginning to harden. Makes 20-24 muffins.