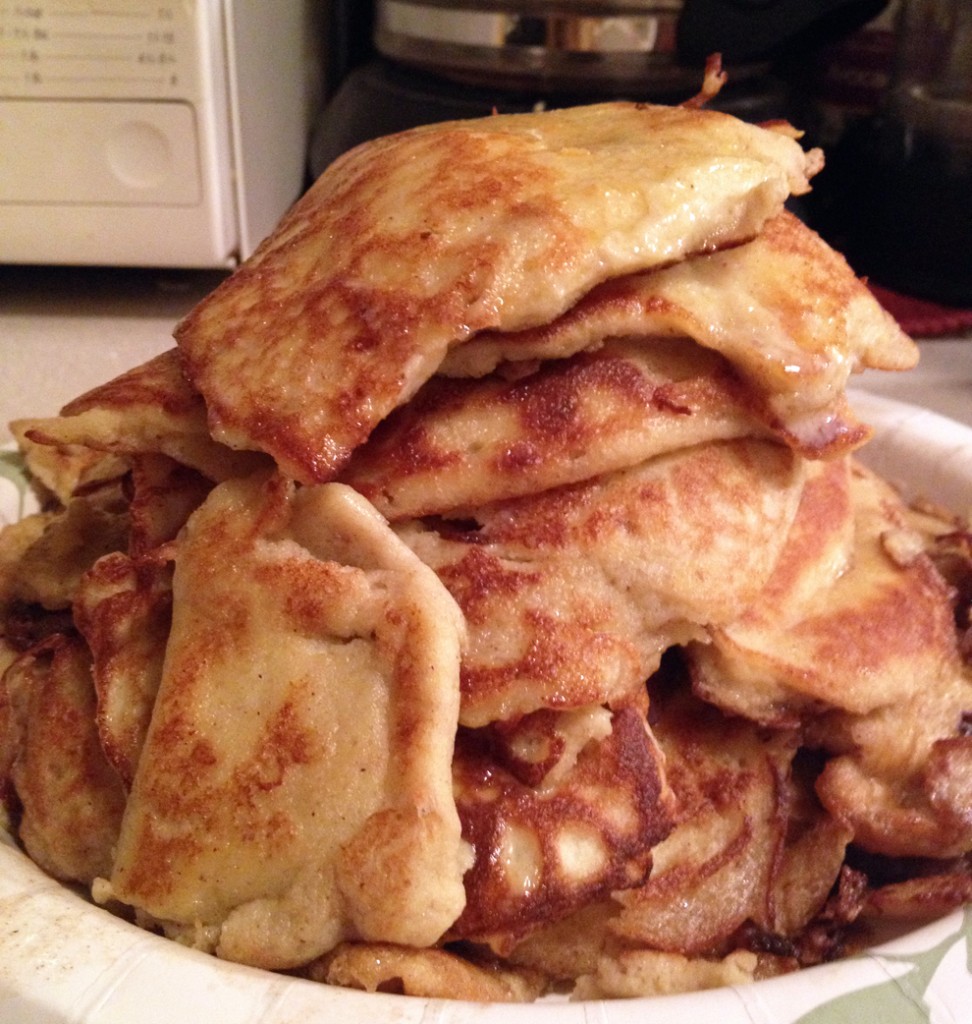 On weekend mornings we sometimes go to a restaurant for brunch. More often then not we end up making complicated orders to cut out starches and wheat, or rely solely on the a la carte menu to fit our diet. Inevitably the ordering process is interrupted while the server makes a trip back to the kitchen to confirm whether or not we can substitute a salad or vegetables for the hash browns and toast. Skimming through the majority of the menu items, most of which involve cakes, toasts, waffles and syrups, reminds me of Sunday mornings growing up. After returning home from church we would all change into our sweats and dad would set up the production line – he would make dozens of waffles, which we would eat on for a month out of the freezer, and enjoy hot, fresh ones immediately. Other days he would make pancakes, with a resulting mound of leftovers reaching a foot high or more. Those extras went into the freezer, too. There was always a bag of one or the other that could be pulled from and popped in the microwave for a quick meal anytime. I have avoided making waffles or pancakes since our shift to wheat free eating because of the obvious barriers of wheat and syrup. After pondering for a while and looking into a bunch of recipes, I think I came up with one that will fill in the sentimental weekend brunch gap. Thank you Carol over at Ditch the Wheat for the trial and error and the resulting great recipe (even though I did tweak it a bit). The cakes turned out great – when Big D and I bit into them we looked at each other, our eyes got wide and we shared our amazement at how similar they were to the pancakes of our childhood! Topped with some Kerry Gold Irish Butter and some Da Vinci sugar free syrup, they were extremely satisfying. Making them also brought back some fond memories of my dad, who passed away about two years ago and always spent happy times in the kitchen. We are definitely making these again, if for no other reason than because I promised Little B we would do so, after seeing her face was so sad when she learned they were all gone. Gotta stock up that freezer! And next weekend I am gonna show her how to eat them with my mom's wonderful southern contribution slathered on top – peanut butter!
Pancakes a la Coconut Flour
2 tbsp extra virgin coconut oil
Sprinkle of ground cinnamon
3 large eggs
1/4 cup coconut milk
1/2 tsp vanilla extract
1/4 cup coconut flour, sifted
1 tsp powdered stevita (or 1 Tbsp Stevia in the Raw)
1/4 tsp cream of tartar
1/8 tsp baking soda
1/8 tsp sea salt
Additional coconut oil or butter for cooking
Cream together the coconut oil and cinnamon. Add the eggs one at a time. Add coconut milk and vanilla. Mix until smooth. Add coconut flour and stevita. Mix until smooth. Lastly add cream of tartar, baking soda and salt. Do not over mix the batter. Over mixing will result in the baking agents (cream of tartar & baking soda) not working. Use a ladle and pour small amount of batter into a crepe pan or large frying pan with butter or coconut oil on medium heat. Flip once the bottom is light brown and edges are set enough to flip without losing shape. The pancakes will not bubble as much as "regular" pancakes. Serve immediately with a drizzle of syrup. One batch makes about 8 pancakes, so double and triple as needed to feed your clan.