Tuna Avocado Cups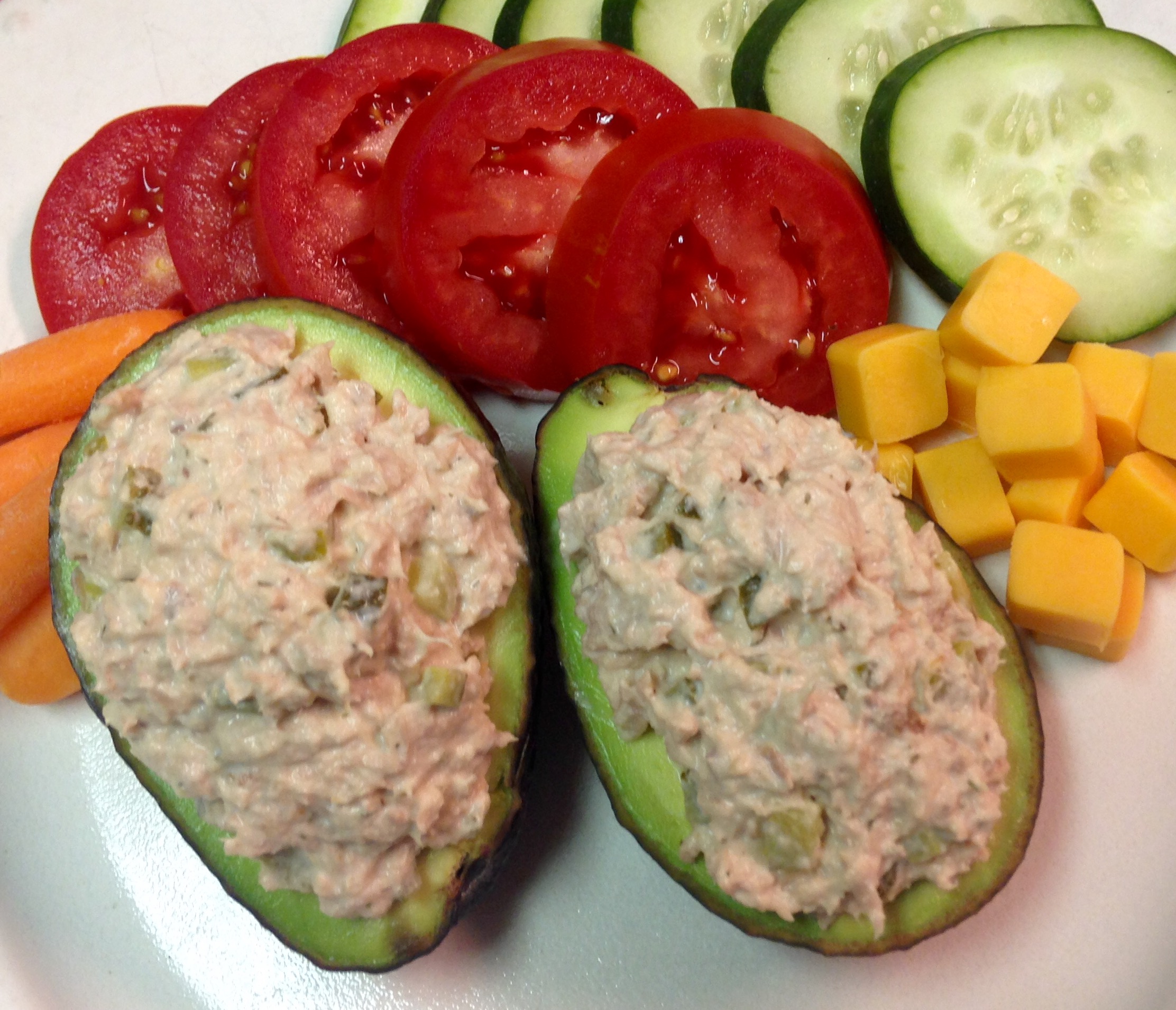 We will be moving (again) soon. Not far and not dramatically, just to a different town. As always, there is a process prior to our moves that involve a cleansing. Cleansing of stuff of all kinds, including the contents of the pantry, freezer and fridge. This cleansing project has resulted in eating leftovers and staples with which I have not been very creative. The process is neither bad nor good, but the lack of creativity resulted in a lack of posts lately.
In my attempt to reconcile the posting situation I realized I was hungry for lunch and had two hankerings – tuna and avocado. I stocked up on some avocados a few days ago and they were finally, wonderfully ripe. Here is what I did with my hankerings and had a filling, satisfying lunch that did not take long at all to make.
Of course you can use any of many cold salads to fill avocado halves, like my Mustard Chicken Salad, Don't Have To Choose Salad, Walnut Chicken Salad, Dilly Egg Salad, or even the exotic and vegetarian Japanese Eggplant Tomato Salad.  I used my old, reliable tuna salad this time, which I just realized I never posted about. Well, then, I am multitasking and did not know it!
Tuna Avocado Cups
2 ripe avocados
10-12 ounces wild caught tuna in water
1 medium dill pickle, finely chopped
1/2 cup mayonnaise
2 teaspoons lemon juice
1 Tablespoon finely chopped onion or 1/8 teaspoon onion powder
1 clove garlic, finely minced or 1/8 teaspoon garlic powder
1 teaspoon dried dill leaves
1/2 teaspoon sea salt
Dash ground black pepper
In a medium bowl whisk together mayonnaise, lemon juice, onion, garlic, salt and pepper. Add tuna and stir with a fork until tuna is broken up and coated with mayonnaise mixture.
Slice avocados in half lengthwise and remove seeds. Lightly sprinkle halves with salt. Spoon tuna salad into halves, molding it into a pretty mound. Serve immediately with some cheese and raw vegetables.