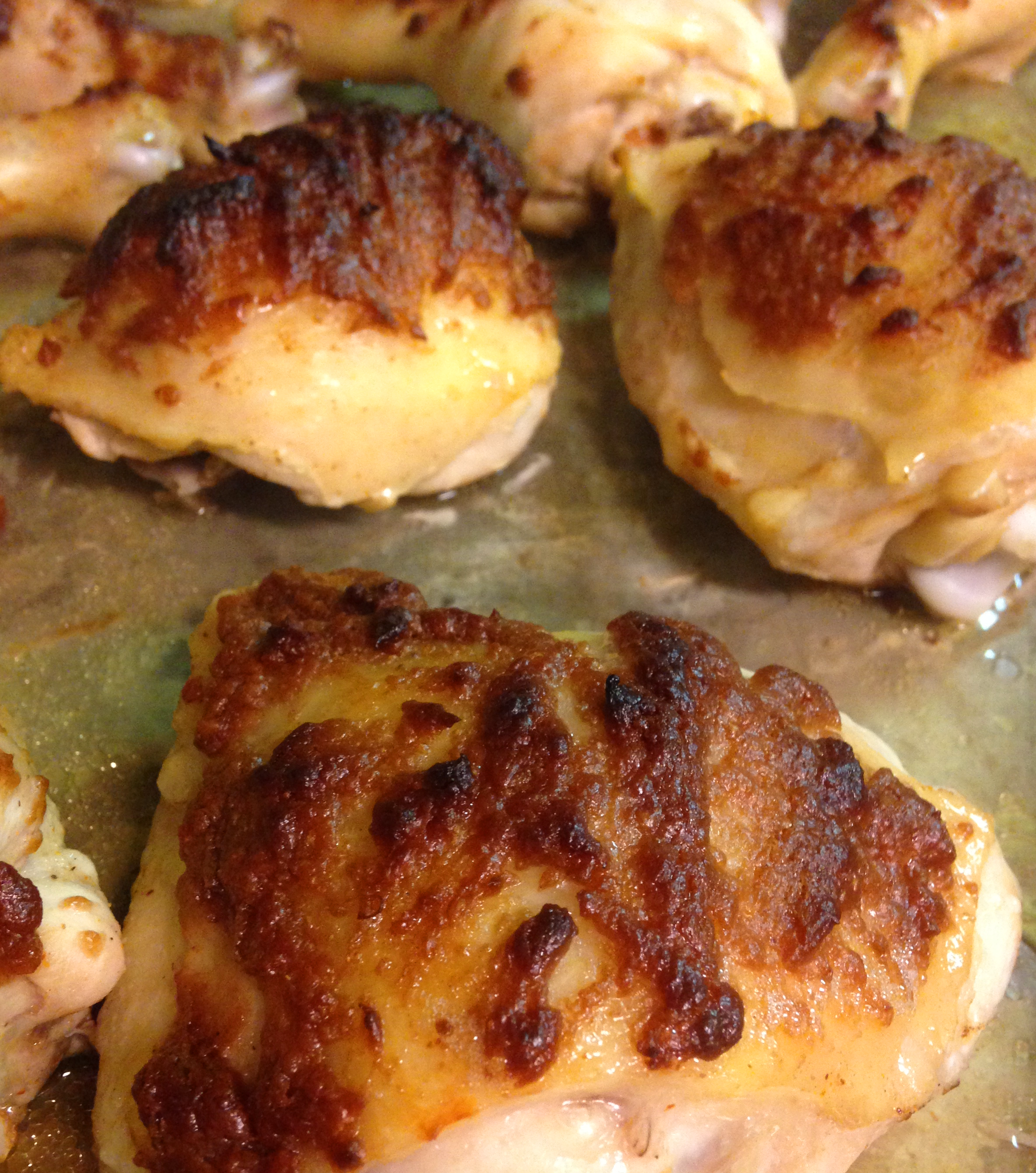 Chicken chicken and more chicken! It seems to be the dish of choice lately, what with all the business in the house of late. I am probably not the only one that has noticed my posts are full of quick proteins and vegetables and mixes. I don't think it is a bad thing, but is far from earlier posts of more time consuming dishes, like king cheesecake, tortillas, posole, cinnamon rolls or fondue.
This dish came from a combination of pre-gymnastics pending meal time and a bit of exhaustion from a day of baking for Grain Free Haven. If I ever worry about my family being interested in eating something all I have to do is slather it with peanut butter. The idea inspired me and this is what I came up with.
If it is not spread on top of a piece of bread it may just be a spoonful scooped out of the jar. If all else fails there are cookies, whether sugar free or just grain free. It is hard to find a jar with simple ingredients. I tried to make my own a few times but burned out food processors, grinders and blenders. Seeking out basic peanut butter (leaving out chemicals and preservatives) that will hold together is not easy. Natural butters are an easy choice, but, frankly, don't have the stability of butters with sugars. Honestly, we lean towards the butters with simple sugars alternating with sugarless ones. Everybody has a vice, right? This chicken recipe relied on peanut butter with some simple sugars – usually labeled 'natural' on the side of the jar. I hope you enjoy the chicken, for what does not go well with peanut butter?
Peanut Butter Chicken
1 cup creamy peanut butter
1/2 cup Worcestershire sauce
1/4 cup water
1 teaspoon granulated garlic
1/2 teaspoon onion powder
1/2 teaspoon sea salt
6 – 8 chicken thighs and legs, bone in and skin on
Sea salt and ground black pepper to taste
Preheat oven to 375 degrees. In a medium bowl whisk together peanut butter, Worcestershire sauce, water, garlic, onion and sea salt.
Generously season all sides of each piece of chicken and place, skin side up, on a shallow baking sheet.
With a knife or back of a spoon spread the peanut sauce on the skin top of each piece of chicken. Place baking sheet on top level of oven. Bake for 35 – 40 minutes, until chicken is cooked through and sauce is beginning to brown.
Remove from oven and let sit for about five minutes before serving.